Static Slide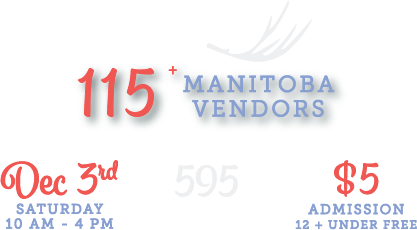 Static Slide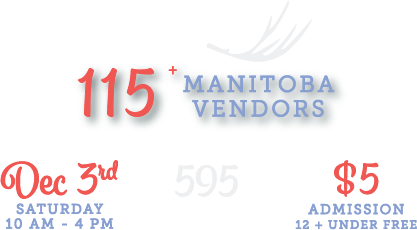 About the
SCA Christmas Market
Springs Christian Academy hosts an annual Christmas Market, held in our auditorium at 595 Lagimodière Blvd.  This exciting school fundraiser features over 100 Manitoban artists, artisans and food vendors.
We offer FREE parking, live music, coat/parcel check!  Buy a beverage at our WeProudly Serve Starbucks coffee shop or Artisinal style coffee shop serving locally-roasted coffee beans.  We are stroller-friendly & Handicap Accessible, making this an event for the whole family.
Saturday Dec 2nd, 2023 | 10 am – 4 pm
Admission: $7, children 12 and under are free of charge.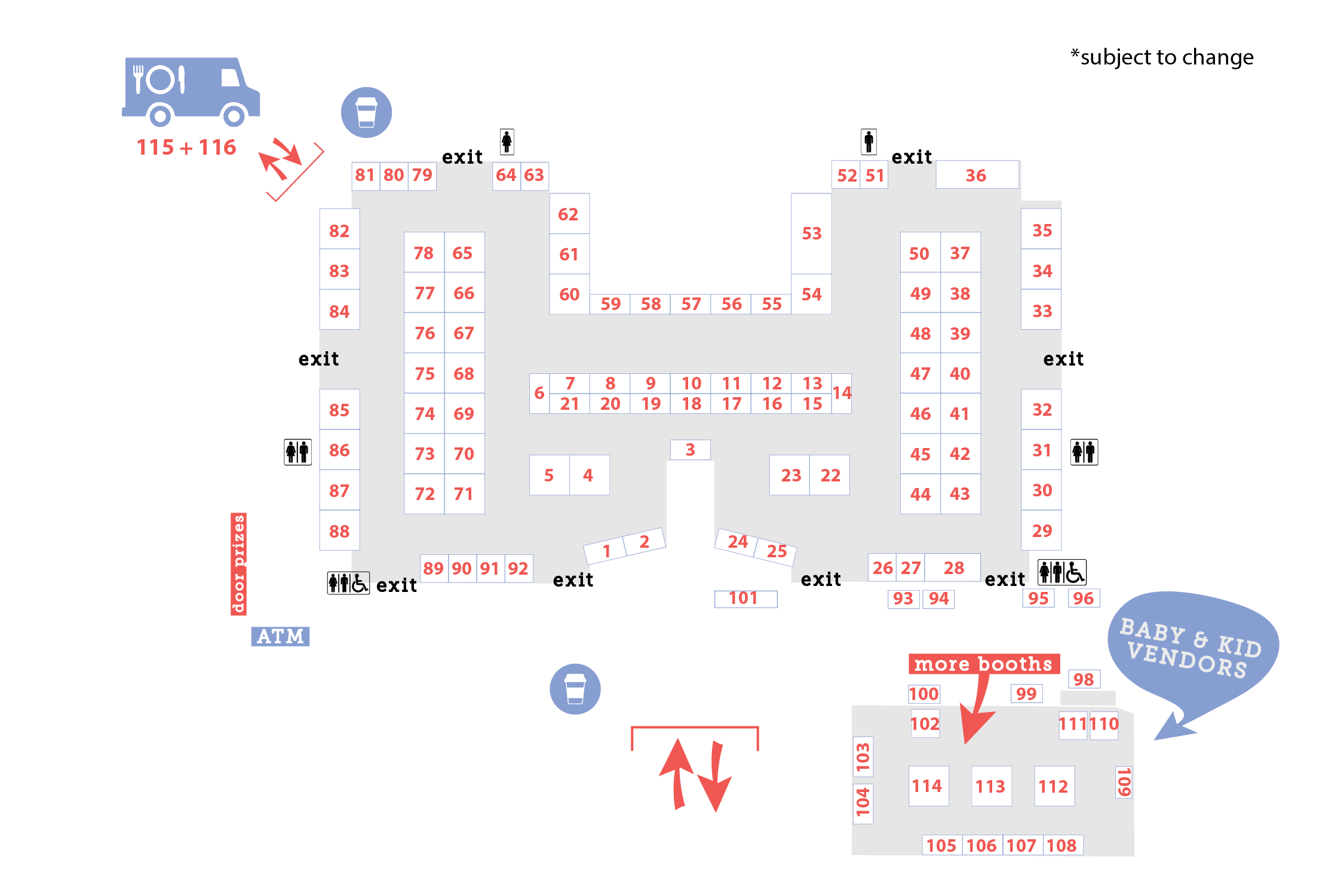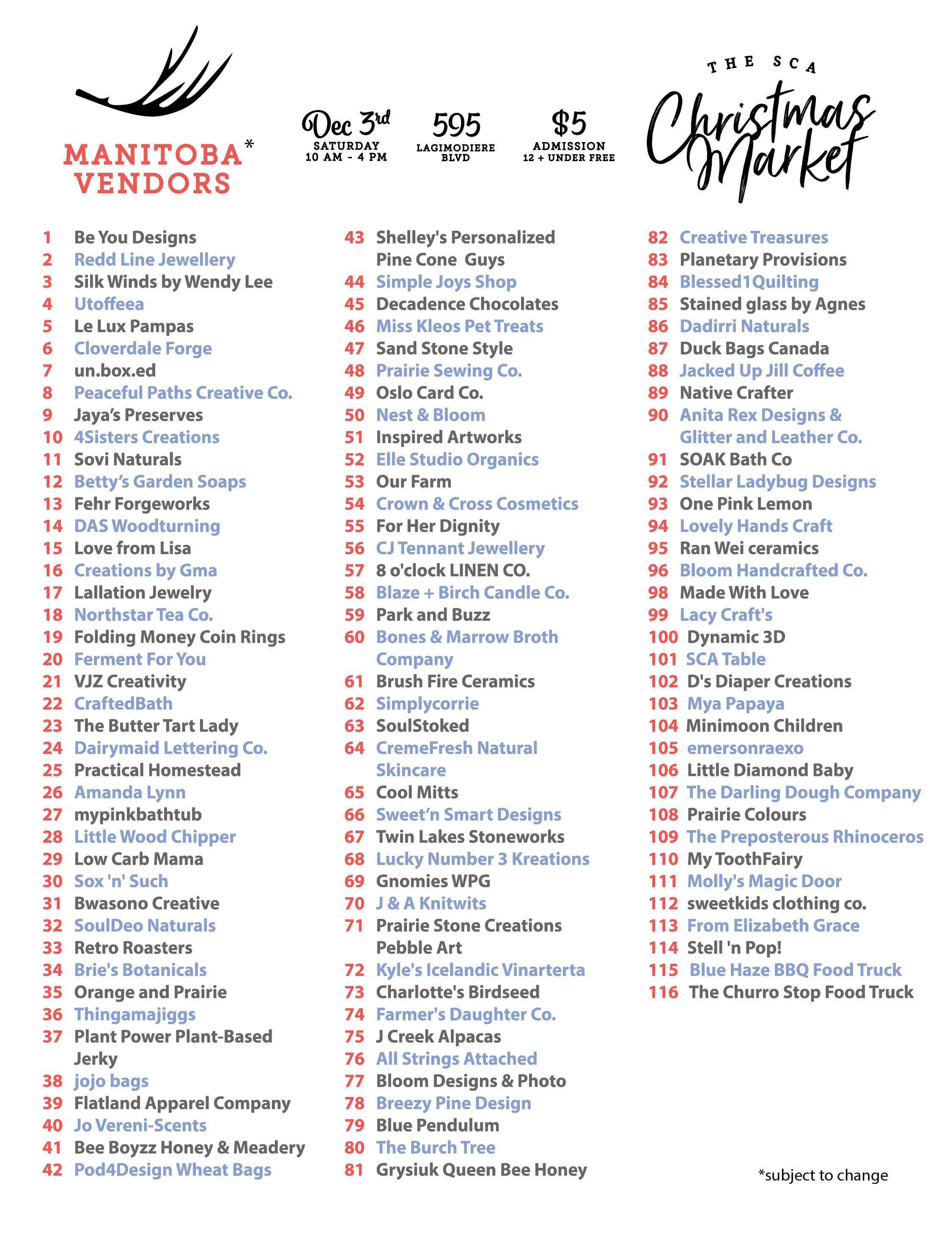 Folding Money Coin Rings
For Her Dignity
J Creek Alpacas
Lacy Craft's
Made With Love
Native Crafter
Prairie Stone Creations Pebble Art
SCA Table
Shelley's Personalized Pine Cone Guys
VJZ Creativity
SCA Christmas Market FAQs
When is the SCA Christmas Market?
The SCA Christmas Market is always held on the first Saturday in December. The next market is scheduled for: Saturday December 2nd, 2023. Doors open to the public at 9:30am for admission. Main event doors open at 10:00am
What is this fundraiser for?
The SCA Christmas Market is a fundraiser for Springs Christian Academy. Funds raised help fund grad celebrations, buy new equipment and enrich curricular programs for our K-12 school.
What type of vendor are you looking for?
We are looking for Manitoba-based makers, where the product is the original concepts of the Artist and Artisan. We love to see creative entrepreneurs who champion and collaborate with others in the maker community. We encourage items made via local and/or ethical manufacturing, as long as the idea is the vendor's original concept.
Do you accept food vendors?
Yes. We operate by Manitoba Health guidelines. A Public Health Inspector reviews all food vendors for approval. If you are not approved by the food inspector, we will not be able to have you at the market. Open communication with the inspector is highly recommended. The Market Guidelines (application at the end) can be viewed here; which must be submitted directly to the Manitoba Public Health Inspector. If you plan on serving food samples, we must be notified before the market. Food Sampling Guidelines here.
When do you take applications?
Vendor applications will be open in April for a 2 week period. Three to four good quality photos of products & display if possible must accompany applications. For the 2022 market, the application window will be in March of 2022. No applications will be accepted after this time. Applicants will be notified by May whether or not they have been accepted. Follow us on Instagram & Facebook, or request to be added to our mailing list here for up-to-date info on the process.
Do you have a cancellation list?
Any applications for the current market that are not accepted will remain on a cancellation list until the event. All applicants are encouraged to re-apply annually during the determined application time, as the cancellation list is not kept on file past that date.
What date is the booth payment required by?
Upon acceptance into the market, all vendors are required to submit payment within 2 weeks.
What are the booth sizes & costs?
We offer a variety of booth sizes. Most booths are 10′ X 10′, but we will be offering a few new 5′ X 10′ & 7′ X7′ & 2′ X 8′ booth options. Costs range from $75-250/booth depending on the booth size and location.  Corner booths have a premium cost.
What is provided in the booth?
We provide 2 chairs for each booth. There is a vendor lounge with complimentary tea & coffee, as well as to provide a quiet place to eat. Free WI-FI is available in the building. We promote our vendors on our social media platforms.
Are tables provided?
Tables are not provided with booth rental, but can be requested at a cost of $25 each. We encourage you to have your own unique displays like you are setting up your own boutique shop. This elevates the customer experience and will attract more traffic to the market to your booth.
Are electrical outlets available?
Electricity is available for some booths on a first-come-first-served basis. This can be requested on the vendor application.
When is the set up and tear down?
Set up occurs the day before the show, Friday from 11 am-8 pm, as well as the morning of the event. All booths MUST be complete by 9:00 am. Doors open at 7:30 am on Saturday morning for vendors & event crew only.
I was accepted as a vendor but can no longer attend. Do you offer booth refunds?
Yes, we understand that things happen, and your availability may change. We offer a refund until October 1, 2023, minus a $25 admin fee.
My business would love to sponsor your event? Who do I contact?
We would love to discuss sponsorship! Please send an e-mail to sdyck@springs.ca and let us know what you have in mind. We currently are looking for sponsors in the area of print, décor, marketing and early shopper swag.